What is personalization and how to use it
Personalization is more than a buzzword. It's a strategy that can help businesses establish deeper relationships with customers and drive revenue.
According to McKinsey & Company, 71% of consumers expect companies to deliver personalized interactions and 76% get frustrated when they don't. And with more people engaging with businesses digitally, there are more opportunities — and a greater expectation — for personalization.
While personalization may be something that consumers crave, it isn't as simple as choosing a single tactic and deploying it across all campaigns. Personalization involves using data to tailor touchpoints to individual customer interests, helping you increase engagement and revenue with each interaction.
This blog post will explore how you can implement personalization across your marketing campaign with examples of how savvy and creative brands get it done.
Let's take a look.
What is personalization?
Personalization is the process of tailoring brand experiences to meet customer interests, needs, and preferences. By analyzing audience data, brands can uncover key insights that can inform marketing strategies and tactics.
As Jason Oates, chief business officer at LiveIntent, said, "I think a brand should be like a good friend who's making solid recommendations in the moment as a human would […] So personalization has to do with identifying where someone is in their journey and then being an aid to them in that moment."
For instance, a fashion retailer might discover that their target customers — women aged 18 to 35 — prefer consuming content on weekday afternoons via email apps. The brand might choose to launch customized ads across fashion email newsletters, reaching those readers on smartphones and tablets when they're most likely to engage.
Or, a men's grooming brand might notice that a segment of customers hasn't made a purchase in a few months. The brand could send personalized recommendations based on previous purchases or site visits along with a special discount code right to the customer's inbox.
Why is personalization so important?
Personalization is important because it can lead to increased engagement and revenue. By tailoring ad campaigns directly to your audience's behaviors and preferences, you can stand out from the noise and truly deliver value to your customers.
As McKinsey & Company reported, personalization can drive 10-15% revenue lift. Also, 76% of consumers say that personalization was a key factor in brand consideration and a whopping 78% said receiving personalized content made them more likely to repurchase.
What are the challenges of personalization?
Delivering personalization is already a challenging task given that businesses must unify and connect disparate data points to a single profile to accurately understand their needs and where they are in their customer journey. Achieving and delivering personalization is only further complicated by the impending deprecation of third-party cookies. Without cookies, brands have to find new ways to track and target customers across the web.
Moreover, marketers face internal organizational obstacles that further complicate personalization initiatives, like siloed departments, for instance. One study found that more than half of marketers say siloed data is their biggest obstacle to leveraging customer insights. Teams like data science, marketing, product, and customer support teams, can benefit from collaborating with each other and sharing insights that help drive more effective marketing and revenue.
How does identity resolution play a role in effective personalization?
Identity resolution is instrumental to creating personalized experiences. With Identity resolution, businesses can solve one of their key personalization challenges: unifying disparate audience data points and attributing them to a single profile. Once they have a comprehensive view of each customer or prospect, marketers can divide their audiences into unique segments and target them with personalized ads. Furthermore, a single unified customer view helps businesses breakdown silos, so departments across organizations can leverage their first-party data with greater ease and efficiency.
But how do you make that happen? With an identity graph! This is a database that contains and connects disparate customer signals to unique identifiers like email addresses, device IDs, and IP addresses. By collecting these all in one place, advertisers can better understand exactly who their customers are, how they behave on each platform, and activate that data and insights to drive engagement.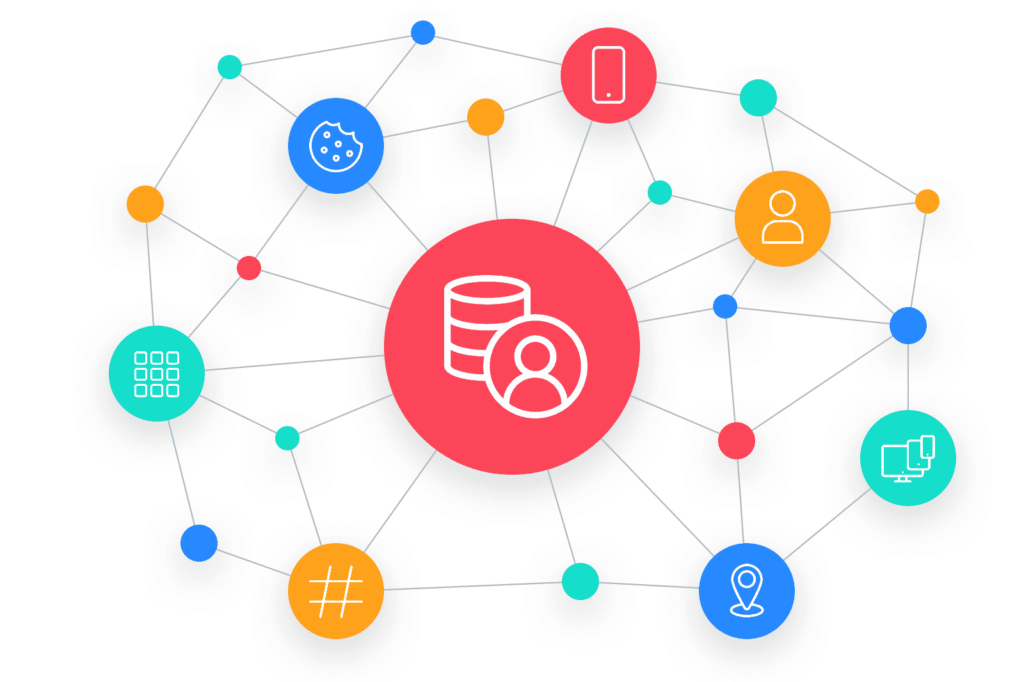 LiveIntent, for example, runs a first-of-its-kind Identity Graph of over 200 million unique email addresses and 25 billion authenticated data signals. By tapping into this resource, advertisers can connect their own data sets to the larger ecosystem and build comprehensive customer profiles. From there, they can create robust audience segments and launch Dynamic Product Ads, tailored to each customer's interests.
Your checklist to enabling personalization
If you're new to the world of personalization, this may be a lot of information to take in. Below is a quick checklist of the things you and your business need to enable personalization and drive improved customer experiences.
Audience data and insights. Collect information about your customers from a range of sources like your website, mobile app, email subscriptions, in-store purchases, support and sales teams, and social networks. Gathering first-party audience data from these sources will also help you gather unique identifiers, including mobile IDs, hashed emails, and device IDs — vital elements to improving your personalization efforts across channels, platforms, and devices.
Accurate customer segments. Equipped with audience data and insights, businesses can organize and unify their data to create a single customer view using an identity graph. With a single customer view, brands can then build customer segments based on certain interests and behaviors.
Marketing automation. Partner with a marketing platform to automatically target and distribute personalized campaigns to the right audiences at the right time.
5 examples of personalization in marketing
Now that you have a better understanding of personalization, its importance, and how to get started, let's take a look at personalization in action. Check out these five notable examples of personalized marketing campaigns.
You can use audience signals to determine the type of content to send to each subscriber's inbox. A furniture retailer, for example, might analyze how visitors behave on its website. From there, the brand can send email newsletters related to the kinds of articles and product pages people engage with, such as bedroom furniture vs. living room furniture.
For a real-life example, e-commerce platform DailySale.com worked with LiveIntent to place personalized deals in each subscriber's email newsletter. They used the LiveConnect tag to track website behaviors and then target visitors with email ads based on their demonstrated interests. As a result, DailySale saw a 140X return on ad spend.
Publishers can also use audience data signals to determine which types of ads to include in their existing email newsletters. The more personalized the ad, the more intuitive and engaging the ad experience will be. A sports publisher, for instance, might include ads for retailers like REI or Dick's Sporting Goods.
Just look at how women's fashion magazine InStyle sent an email newsletter that included a native ad from beauty brand Augustinus Bader:
2. Real-time texts and alerts
Give consumers the option to receive alerts and messages directly from your business. You can use a preference center to gather this data and receive their explicit consent. Crate & Barrel, for instance, has a communications preferences page where customers can select the types of texts and emails they want to receive.
Text messages, in particular, provide a great way to send real-time notifications about sales offers or new product lines. As Digiday reported, e-commerce marketers are increasingly using text to deliver brand communications since it's such an intimate and personal channel.
You can also use on-site behavioral data to determine which messages to send to your consumers, ensuring you deliver personalized value with each ping. Clothing retailer Wildfang, for instance, uses texts to deliver one-on-one deals and gift offers:
3. Abandoned cart reminders
Engage cart abandoners with relevant emails encouraging them to complete their purchases. Or touch base with lapsed and inactive customers, hooking them back in with personalized recommendations based on their past interactions with your brand. You can also send coupons in the mail for specific products customers engaged with, inviting them to redeem their offers online or in-store.
Phone case retailer CASETiFY, for example, sends cart abandonment emails with subject lines like "You forgot something?" and "Saw you checking me out…?" They simply nudge customers with quick reminders about what's in their cart. The emails also include helpful links to each product so customers can take another look, as well as a bold call-to-action button for completing the checkout process.
4. Data-driven content experiences
One of the most notable examples of marketing personalization comes from music streaming platform Spotify. The audio giant's annual Wrapped reports use audience engagement data to provide each listener with an interactive, neatly packaged recap of their most-listened-to tracks and artists of the year.
The content experience helps users learn more about themselves and their own interests, as well as the overall interests of the Spotify listening community. By scrolling through your Wrapped report, you can revisit your favorite songs and moments of the past 12 months and share them with friends and family.
This personalized example is particularly impressive because Spotify doesn't flat-out ask customers to buy a product or complete a sale. But by providing high-quality, data-backed content, they build brand awareness and loyalty, and create buzz for the Wrapped releases at the end of each year.
5. Birthday gifts and rewards
Here's an easy customer data point you can use to deliver personalized perks: the birthday. With this simple piece of information, brands can reach each consumer with special discounts, gifts, and recommended products for their birthday.
Take candy retailer Sugarfina, for instance. The brand offers email subscribers a free, small box of sweets on their birthday, which they can pick up at any nearby store.
Sugarfina also builds birthdays into their personalized rewards program, which members can use to earn points and redeem prizes:
Let's get personal
We hope this explainer and examples of personalization got you inspired to start implementing the strategy in your campaigns.
If you're interested in incorporating personalization in your marketing campaigns, why not get started with email newsletters? LiveIntent has the tools you need to make the most of your customer data and deliver tailor-made, eye-catching campaigns to audiences at scale. Contact us to get started.